Going Green K-Lawn, LLC
Matt Flavin

PO Box 1738, 16331 Wever Ct
Buena Vista, CO 81211
719-580-3134 or 719-395-9393
Turn to the Lawn Care Experts at Going Green K-Lawn, LLC
We all want a beautiful lawn — without all the hassles of what it takes to keep it that way.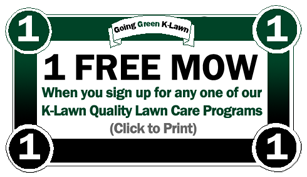 We give FREE Estimates
We also offer Weed Control, Aeration and Full Lawn Service
Mowing
Trimming
Clean Up
If you are in Going Green K-Lawn's service area and would like a free estimate, give Matt a call at 719-580-3134 or use this form to Contact Going Green K-Lawn Today!
Customer Service is our #1 Priority!